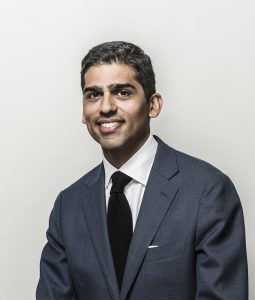 Dr Usman T Khan is an Associate Professor in Civil Engineering at the Lassonde School of Engineering, York University. His research interests lie in Water Resources Engineering,  focusing on urban hydrology, including flood risk assessment and uncertainty analysis, sustainable water resource management and infrastructure, and the impacts of climate change on these systems.
Usman received his BSc and MSc from the University of Calgary. His undergraduate project focused on designing a net zero water use building on a university campus. For his MSc research, Usman tested the efficacy of bioretention cells, a type of sustainable stormwater management technology. Usman was awarded a PhD from the University of Victoria; his research contributions included designing new big-data based techniques to improve water quality and quantity analysis in urban areas.
He has won a number of national awards for his research and teaching, including NSERC awards for his MSc, PhD and postdoctoral work, and recently an Andy Farquharson Teaching Excellence Award. In addition to this, Usman has worked with municipal governments, providing his expertise to a number of stormwater, watershed management and urban hydrology projects.
The role of Civil Engineering in creating vibrant, liveable and sustainable cities is a strong motivator for Usman. He is committed to using his professional practice to meet the challenges that face the urban environment.
---
Dr Usman T Khan, P Eng
Assistant Professor
Civil Engineering
Lassonde School of Engineering
335E Bergeron Centre for Engineering Excellence
usman.khan@lassonde.yorku.ca
1-416-736-2100 x 55890
---
EDUCATION
PhD (2011 - 2015)
University of Victoria
Thesis: Environmental prediction and risk analysis using fuzzy numbers and data-driven models Download
MSc (2008 - 2010)
University of Calgary
Thesis: Bioretention cell efficacy in cold climates Download
BSc (2003-2008)
University of Calgary
Thesis: Water to wastewater: Closing the loop
Teaching
Instructional Skills Certificate (2016)
Design Engineering & Instruction Certificate (2014)
Teaching Fundamentals Certificate (2012)
Professional Memberships
Professional Engineers Ontario (P Eng); International Association of Hydrological Sciences (IAHS); International Water Association (IWA); Canadian Society of Civil Engineering (CSCE); Canadian Water Resources Association (CWRA); Canadian Association on Water Quality (CAWQ); Canadian Geophysical Union (CGU)
---